A force in local, state and national politics for nearly four decades, Manny Diaz was first elected City of Miami Mayor in 2001, having never before held elective office. He was elected to a second term in 2005, and was chosen to lead the United States Conference of Mayors as its president in 2008.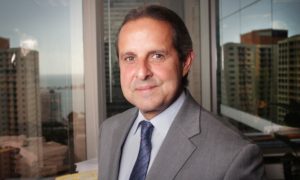 Mayor Diaz developed a vision for Miami as an international City that embodies diversity, economic opportunity, effective customer service and a highly rated quality of life. To achieve this goal, he re-engineered Miami government from top to bottom.
During his two-term tenure, Diaz was recognized for completely transforming the City of Miami, and for many nationally recognized innovative programs in the areas of urban design, sustainability and green initiatives, education, infrastructure investment, affordable housing, law enforcement, poverty and homelessness, and arts and culture.
Diaz is a member of the Board of Directors of OUTFRONT Media, Inc. (NYSE: OUT). He also serves or has served on various commissions and cultural, educational and volunteer boards including Harvard University, Kennedy School of Government, Institute of Politics Senior Advisory Committee, Bloomberg Philanthropies, University of Pennsylvania Institute for Urban Research, City Year U.S.A., Miami Foundation, League of Conservation Voters, Urban Land Institute Daniel Rose Center for Public Leadership in Land Use, Mayors' Institute on City Design, Perez Art Museum Miami, Town Square Neighborhood Development Corporation, NewDEAL, New Leaders Council, Fair Districts Florida, Florida Red & Blue, Florida After School Network, Sustainable Cities Institute, U.S. Green Building Council- South Florida Chapter; Florida Advisory Committee for the U.S. Global Leadership Coalition, and the Florida Steering Committee for The Children's Movement of Florida. He is a former member of the Homeland Security Advisory Council/U.S. Department of Homeland Security.
In recognition of his efforts, Diaz has received almost 100 awards and recognitions including, America's Best Leaders by US News and World Report and The Center for Public Leadership (Kennedy School of Government); the Urban Innovator of the Year by the Manhattan Institute; University of Pennsylvania Institute for Urban Research- Urban Leadership Award; Americans for the Arts-National Award for Local Arts Leadership; American Architectural Foundation Keystone Award; The American Institute of Architects Presidential Citation; Top 100 City Innovators Worldwide by UBM Future Cities; 100 Most Influential Latinos Committed To Climate Action; Hispanic Business- 50 Influentials; United States Conference of Mayors- President's Award; Alvah H. Chapman, Jr., Award of Excellence, Greater Miami Chamber of Commerce; the AIA (Miami Chapter)- Governmental Leadership Award; The Congress for the New Urbanism- Groves Award; Miami-Dade Chamber of Commerce Power Leader of the Year and Green Visionary Awards; the Government Award by Hispanic Magazine; the Business Leader of the Year Award by South Florida CEO Magazine; Poder Hispanic Magazine Climate Award of the Year and was named an Outstanding American by Choice by the United States Citizenship and Immigration Service.
Mayor Diaz served as a Resident Fellow at Harvard's Institute of Politics, and is the author of Miami Transformed: Rebuilding America One Neighborhood, One City at a Time.
Mayor Diaz served as Chair of the Florida Democratic Party during 2021 and 2022 during which time he was on leave from his position as senior partner at Lydecker Diaz n/k/a as Lydecker Law with offices throughout Florida, New York, New Jersey, Pennsylvania and California. He has since returned to the firm.