State of Hawai'i Makes First NEVI Program Award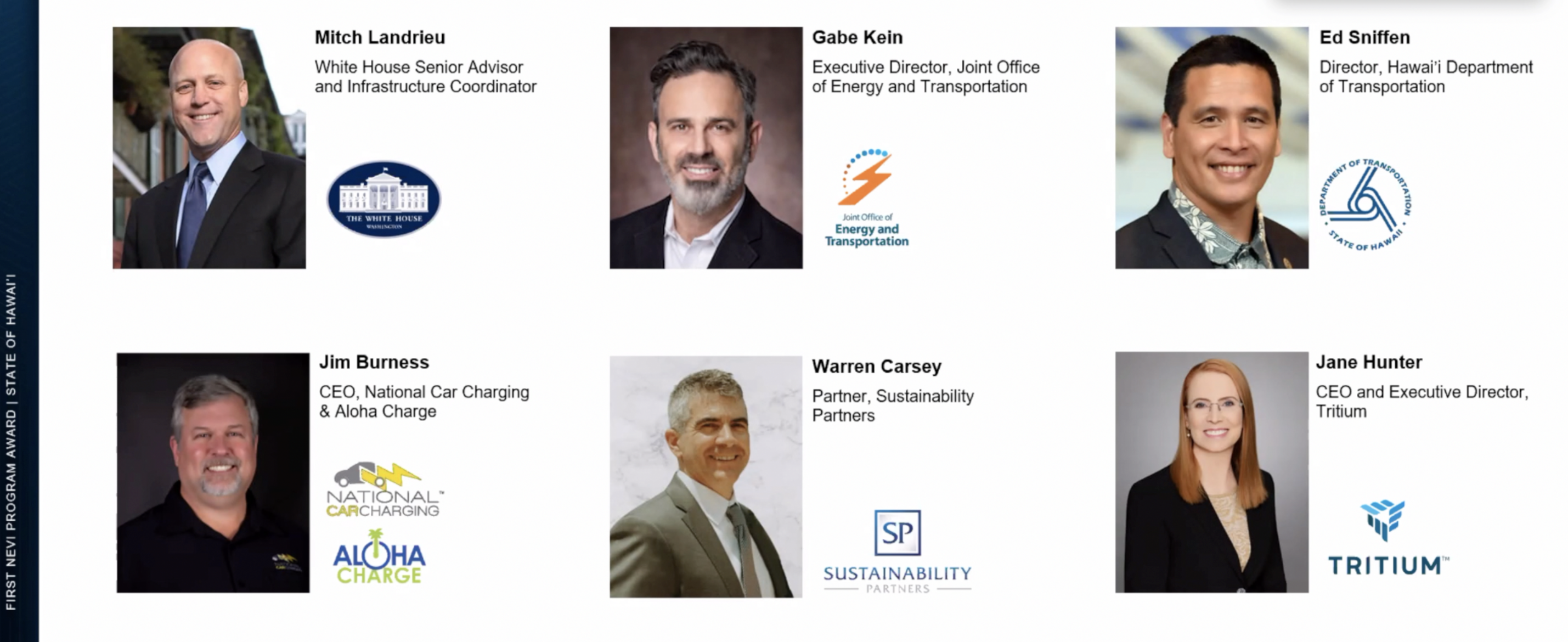 Hawaii's historic progress deploying the first federally funded fast chargers across the state was announced this week by White House Senior Advisor and Infrastructure Coordinator, Mitch Landrieu, with Joint Office of Energy & Transportation Executive Director, Gabe Klein.
"As part of their NEVI deployment plan, Hawaii Department of Transportation is utilizing its existing contract with Sustainability Partners, a public benefit company, to advance their critical infrastructure."
Hawaii DOT Director, Ed Sniffen stated, "We could not have done it without the partnership with Sustainability Partners that allows us to purchase the service of all the electrification needs for Hawaii in a convenient package that ensure it moves forward efficiently, effectively, and feasibly."

Watch this 5-minute highlight of the webinar:
Following the announcements, the question was asked, "Is this team in a position to quickly help other states with their NEVI rollout?"
The answer is YES. This is a perfect situation for Sustainability Partners to capably provide the capital, deploy the necessary infrastructure, and implement a proven solution to keep infrastructure reliable, safe, and improving forever. We make the modernization of infrastructure easy for communities across the nation.

View the full webinar here.
About Sustainability Partners
Sustainability Partners, LLC (SP) is a public benefit company that forms enduring partnerships with public entities for the advancement of their essential infrastructure. SP converts infrastructure to a monthly usage-based utility service with its innovative model, Infrastructure as a Service®. SP offers any combination of funding, including supplementary and match funding for NEVI program initiatives, in addition to project facilitation and ongoing care to keep essential infrastructure reliable, safe, and improving forever.
https://www.sustainability.partners/wp-content/uploads/2023/07/Tritium-Charger.png
400
1000
Ashley
https://www.sustainability.partners/wp-content/uploads/2021/10/SP-logo-color.png
Ashley
2023-07-14 14:35:24
2023-07-14 17:06:12
State of Hawai'i Makes First NEVI Program Award