Hospitals are critical to the health and well-being of our society yet our nation's hospitals are suffering, losing billions of dollars just last year.
The lower margins from increasingly more expensive life-saving technologies and significantly higher expenses, workforce shortages, and a host of other obstacles have taken a giant financial toll. There just isn't money left over for their infrastructure.
The necessity to fund life-saving equipment takes budget priority over essential building systems. Both are necessary; however, an unreliable elevator is simply less important than an unreliable operating room.
This year SP is partnering with healthcare systems to solve this. By removing the infrastructure from their capital stack, we enable a reliable and safe facility and the advancement of pivotal modern technologies to save lives. 
Since SP provides infrastructure without debt and does not draw from capital, hospitals are able to use 100% of their balance sheet for direct health expenditures.


State of the Art California Medical Center
SP executed agreements to provide $750 million in first phase essential infrastructure as part of this major new campus.
With their unanimous board approval, SP is to provide all the elevators, lighting, pumps, compressors, HVAC, cooling tower, boilers, plumbing, electrical, doors, windows, restrooms and more…
SP is making infrastructure easy and self-improving for healthcare systems. We're funding innovation that has a long-lasting and meaningful impact.


SP's own Eric Street was at the White House sharing SP's story of impact as we provide self-improving infrastructure to communities throughout the state of Louisiana, permanently eliminating deferred maintenance.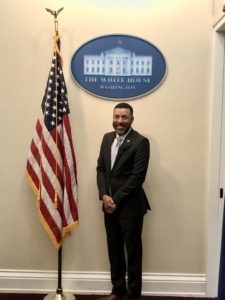 As a match to state and federal monies, SP has successfully provided the funding match for clean and wastewater infrastructure solutions and implementation of government fleet electric vehicles along with the necessary charging infrastructure.
To date, there are over 120 specific projects identified for federal funding. Louisiana is set to receive more than $3.1 billion for transportation to invest in roads, bridges, public transit, ports and airports and over $101 million for clean water. SP is currently implementing sustainable infrastructure solutions throughout Louisiana by matching federal funds using SP's Infrastructure as a Service®.

SP Welcomes New Team Members
SHERRY DURAND – Senior Corporate Counsel
Experienced in utility services, critical infrastructure installation, and government procurement, Sherry offers expert insight and legal review developing new customer contracts.
MATT CAMPANA – Smartsheet Engineer
Promoting SP's commitment to continually adding value and providing transparency, our new business process analyst is an expert in developing internal and external dashboards for our partners.
MICHAEL DU PONT – Owner's Representative
Former Deputy Director of Department of Transportation for the County of Maui, Hawaii resident, Michael Du Pont joins SP as an Owner's Representative serving the islands.

Friends of SP, we have an exciting year ahead! Thanks for supporting us on the journey.

https://www.sustainability.partners/wp-content/uploads/2023/02/Hospital-AdobeStock_87154587-scaled.jpeg
1707
2560
Ashley
https://www.sustainability.partners/wp-content/uploads/2021/10/SP-logo-color.png
Ashley
2023-01-31 17:39:21
2023-03-16 14:44:05
Investing in Hospitals